Tree Damage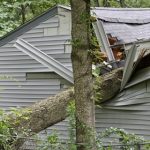 Year after year Georgia is hit with rain and wind storms.  They usually bring about soft soil, flying debris, and potential for serious disaster.  We receive many questions regarding these claims so we thought we would go over a few of the main questions our customer have.
What happens if your neighbors tree falls on your home, fence, or auto? 
The answer depends on where you live.  If you live in urban Georgia then the Georgia "visibly dead or diseased" rule applies and holds the property owner with the tree more liable.  The tree owner is responsible for paying all damages when the fallen tree showed visible signs that the tree was dead or had a disease.  However, if it did not show any visible signs (as a healthy tree blown over due to a wind storm etc.) then the owner of the damaged property is responsible for their own property.   If a person lives in rural Georgia then the rule is a bit more difficult because unless the tree owner is found to have known of the trees bad condition  (disease or was dead) they are not liable.
Since the Georgia law is so vague in interpretation we encourage our customers, that have concerns regarding a tree that is visibly dangerous, to photograph the visible issues and document contact with the owner of the tree.  We encourage email or some form of provable communication in the event one party denies such communication and the property damage becomes a decision for the courts to rule on.
Will my home owner insurance cover damage caused by fallen trees?
This depends on the policy coverage and endorsements purchased. A typical replacement policy will protect the home, outbuildings, and fences against specific causes of loss.  Wind and hail are typical occurrences the home owner faces that we as contractors are brought in to assess. However, almost all policies will not cover a loss caused by negligence or a maintenance related issue.  For example, if the tree was rotting before the storm then the company could deny the claim based on the home owners responsibility to maintain and upkeep the property.  Another situation is if your roof is damaged (blown shingles, punctured roof etc.) it is the home owners responsibility to tarp immediately to protect from further damage.
What if the fallen tree didn't damage any structure on the property but fell in the yard?
This falls under debris removal. Debris removal usually has a stated limit or it is an endorsement that is extra and has to be purchased.  Most polices will not cover removing a fallen tree unless it has caused damage to your property.  Some policies will remove debris if blocking an entrance or exit for those with disabilities.
A contractor said he can cover my deductible will you do the same?
As a home owner you have entered into an agreement with your insurance company to pay your deductible up to the amount chosen at the time of the policy inception.  It was also agreed in writing that the insurance company is responsible for the cost of the damages minus the deductible.  If you are not being truthful regarding the true cost of repair that is insurance fraud (a felony in most states) and could possibly lead to jail time.  The contractor and the home owner are both liable by Georgia law.  Many insurance companies have started requesting receipts and proof of payment on a case by case basis to enforce the law.  Most deductibles are $1,000+.  Any contractor who up front can cover such a large amount is cutting corners to do such.  This usually results in skipping needed materials which will cause further headache down the road for the home owner.  Bad installation is not covered by the insurance company and any claim due to such will be denied by most carriers. Have the work performed by a reputable company and completed right the first time.  Request a warranty in writing and a contract showing the exact work to be performed.
What is the insurance company responsible for and what am I liable for?
You are liable for your deductible.  Keep in mind that during certain large disasters that your deductible may be different based on the type of event.  Many policies have a larger deductible for hail, wind, or other large events.  The home owner is also responsible for any upgrades in products.
Why isn't the rising water or septic tank overflow covered?
These are usually not covered under most home owner policies.  There is usually an endorsement that can be purchased that will cover these perils to a certain limit.
The city is requiring changes be made why doesn't my insurance cover it?
Things such as drip edge, deck replacement, and many others may be required by a building/code inspector and your typical home insurance policy may not cover them.  As laws change and become more strict there are more items and details needed to put the roof back properly than when your past roof was installed.  "Code upgrade coverage" is an add on that you need to typically request that may not be automatically included.  Code upgrade changes such as decking replacement can be very costly.
Will my home insurance cover me in the event a worker is hurt while on my property?
Tree removal, roofing, siding and many of the other trades are very dangerous. Workers are seriously hurt due to the hazards of the occupation.  We encourage anyone having repairs done on their property to request insurance showing coverage for general liability, workers comp., and business auto coverage before they are allowed on their property.  This will protect the home owner from law suits and will help weed out the unscrupulous & fly by night contractors that are not professionals.
now for the legal disclaimer
***AR&C, INC. is a contractor and not an attorney nor making any representations of any insurance company.  All policies are different so we encourage our readers to consult with their personal agent or lawyer regarding their individual concerns.***