How Much Does Gutter Installation Cost?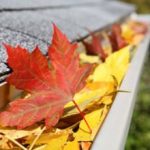 Typical Home Owner Gutter Installation Cost
The average cost to install galvanized or aluminum gutters is approximately $4 to $11 per linear foot. Affordable Roofing & Construction offer 5″ and 6″ traditional seamless gutters. Half round gutters are a bit more expensive and are more for aesthetic looks due to the shape allowing fast flowing water the chance to escape. Commercial box gutters are also available in sizes of 7″ and higher. Therefore, installing from 125 to 200 feet of standard gutters will cost $1050-$2400 depending on the size, amount of intersections, amount of downspouts, and difficulty of height etc.
For the purpose of this discussion we will look at the price and requirements to install 200 feet of gutters.
Enhancement and improvement costs
•Gutter Drainage – It usually requires no more than $160 to pay a professional to design and install a system for the drainage of gutter water away from the house or foundation;
•Removal and Disposal – removing old gutters and disposing of them will usually add to the total cost. If you have city removal or other ability to remove the old gutters, let your estimator know so those cost may be removed from the quote.
•Cleaning – the average cost for a professional gutter cleaning is approximately $90-250 for a single service. In most areas it is necessary to clean gutters at least two times each year. Even with gutter guards there is still a need for gutter cleaning. Shingle granules and dust tend to settle through the screen and put great pressure on the fascia of the home. Depending on the type of gutter cover will determine how often and how difficult the cleaning will need to be;
•Gutter Guards – there are dozens of varieties of gutter guards. The costs for a system can range from as little as $200 up to $3600 depending on the type selected;
•Downspout Screens – in addition to using gutter guards, a homeowner may consider installing downspout screens as an extra protection to protect their downspouts from becoming clogged.